:: ParamList :: 
 exec sh.GetBlogInfo
	@DomainName = '.com' ,
	@Language = 'en-US' ,
	@BusinessUnit = 'SH' ,
	@BlogCategory = '__ALL__' ,
	@BlogType = 'Blog' ,
	@BlogURL = 'matte-black-shower-head-bathroom-remodel' ,
	@Brand = '__ALL__' ,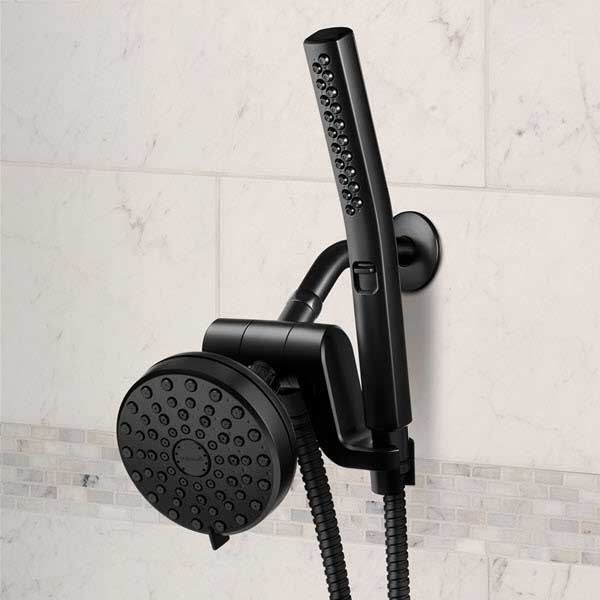 Matte Black Shower Head and Bathroom Remodel
June 15, 2021
---
You may have noticed an upward trend of matte black finishes in many aspects of life. From cars to fashion to interior design, no one can get enough of matte black. It adds a modern and minimalistic appeal to your home.
This article walks you through how you can affordably upgrade your bathroom using a matte black shower system plus bathroom elements and accent pieces.
Choose a Shower Head
Start your bathroom remodel with a matte black shower head. There's no reason to chose between function and design when you can have both.
Consider the HairWand Spa System from Waterpik for a modern shower head with upgraded features at an affordable price. The HairWand Spa System gives you a matte black rainfall shower head with 9 spray options, bracket, shower hose, and contoured shower wand with PowerComb spray to rinse your hair with ease.
Balance Matte Black Bathroom Fixtures and Accent Pieces
The key to incorporating a matte black finish in your bathroom is balance. Decide which aspects of your bathroom will be black, and which won't. This creates balance that draws attention to each element in your bathroom.
Swap out some or all of the following fixtures and accent pieces to a matte black finish. To save money, swap lower priced items for a more affordable remodel using matte black:
Faucets
Cabinet hardware
Bathroom accessories sets
Pots or frames
Shower rod or curtain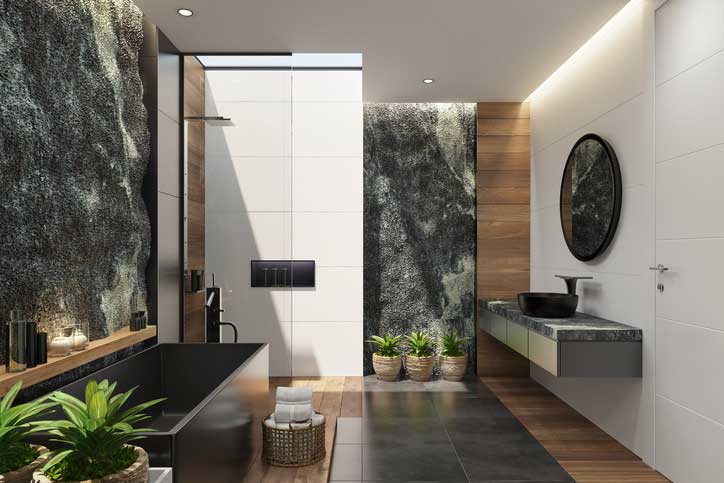 Styling your bathroom gives you endless design possibilities. This is where you have the freedom to personalize your bathroom to something that speaks true to you:
Add wood or greenery to the matte black elements to create a natural atmosphere
Pair matte black with other finishes such as chrome or gold to add a modern, sophisticated look
Add a patterned wall to bring vibrance to your space
The opportunities are truly endless.
Getting Started With a Shower Head
To begin your new matte black bathroom upgrade, purchase your first matte black element; the HairWand Spa System. Installation takes just a few minutes – no plumber needed!