:: ParamList :: 
 exec sh.GetBlogInfo
	@DomainName = '.com' ,
	@Language = 'en-US' ,
	@BusinessUnit = 'SH' ,
	@BlogCategory = '__ALL__' ,
	@BlogType = 'Blog' ,
	@BlogURL = 'money-saving-tips-to-clean-shower' ,
	@Brand = '__ALL__' ,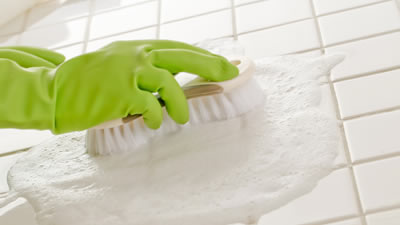 4 Money Saving Tips for Cleaning Your Shower
March 24, 2014
---
When it comes to cleaning your shower, you can spend a fortune on cleaning supplies that often contain harsh ingredients and chemicals.
Here are some shower cleaning tips that will save you money and reduce your use of expensive, harsh cleaners.
What You Need
White vinegar
Household bleach
Squeegee
Rubber gloves

Bristle scrub brush
Old toothbrush
Spray bottle
Old towels
#1 Dry the Shower Doors and Walls
After each shower, use a squeegee to quickly remove excess water. For an even more thorough drying, follow up with a quick towel wipe of the walls and doors.
Although it takes an extra minute or two, drying your shower goes a long way to prevent soap scum buildup, mildew, and mold. And it reduces the time needed for cleaning your shower doors and tile.
#2 Clean Shower Curtains and Liners
After showering, make sure to stretch the curtain and liners across the rod. You want to eliminate any folds or creases that hold moisture, which can result in mildew.
You can launder most curtains and liners to remove mildew. Place in your washing machine on the gentle cycle and wash in warm water. Hang to dry.
#3 Remove Soap Scum
Put on rubber gloves and scrub your shower doors and tile with a mixture of 1 part white vinegar and 1 part water to remove soap buildup. Rinse thoroughly with plain warm water.
White vinegar is also a great for removing mineral deposits and cleaning your shower head.
#4 Attack Shower Mold and Mildew
Combine 10 parts water and 1 part household bleach. Using rubber gloves and a bristle brush, apply the solution to the desired area. Allow the solution a few minutes to work, then scrub with the bristle brush.
To get into tight areas, you can also place the solution in a spray bottle, spray the area, and scrub using an old toothbrush.
Rinse thoroughly, and then dry with old towels (in case there is any bleach solution remaining).
Try a Hand Held Shower Head
To make shower cleaning more convenient, replace your existing shower head with a hand held shower head (if you don't already have one).
A hand held shower head rests in a bracket and attaches to a long flexible hose. You can remove the shower head from the bracket, hold it in your hand, and move the spray where needed to easily rinse your shower.
To find the perfect hand held shower head, browse our shower head products.