About EasySelect®
A Range of Experiences at Your Fingertips
EasySelect® shower heads include the revolutionary spray selector that's conveniently located on the handle or face of the product. With the EasySelect® selector, you can switch settings easily and enjoy a refreshingly invigorating shower experience.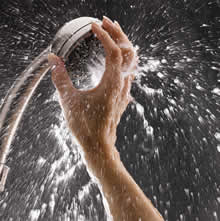 The Problem: Traditional Spray Selectors
After talking with consumers about their shower heads, Waterpik developers learned that:
Changing traditional spray mode selectors is difficult and messy
Traditional spray mode selectors are hard to grip
Changing traditional spray mode selectors is often a two-handed operation
Traditional selectors require you to reach through the spray to change modes, resulting in water spraying everywhere. And spray mode selectors can be slippery.