:: ParamList :: 
 exec sh.GetBlogInfo
	@DomainName = '.com' ,
	@Language = 'en-US' ,
	@BusinessUnit = 'SH' ,
	@BlogCategory = '__ALL__' ,
	@BlogType = 'Blog' ,
	@BlogURL = 'select-perfect-shower' ,
	@Brand = '__ALL__' ,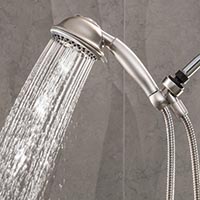 How to Buy a Shower Head
October 29, 2012
---
Do you know what to look for in a new shower head? Thankfully, selecting the perfect shower head for you and your family is easy as 1-2-3!
Follow these 3 simple tips and see our buying guide for more information about how to buy a shower head and make your decision easier.
Step 1: Choose Your Shower Head Type
Decide if you prefer:
Step 2: Choose Your Finish
Do you like the modern look of chrome, would you prefer the contemporary look of white, or are you looking for something more traditional like a brushed nickel finish?
Step 3: Choose Your Spray Modes
Decide which shower head spray setting features you want from your shower head.
Examples include:
It's Easy to Transform Your Shower Experience
Waterpik® shower heads are easy to install yourself (no plumber needed!) and their affordability lets you transform your daily shower from a dull routine into a well-deserved escape.