Shower Wand Spa System
A shower wand features several rows of concentrated nozzles that provide a targeted water-comb spray. When you combine the shower wand with a fixed rain shower head, you create an at-home spa system.
Best Shower Head For:

Rinsing hair, easing body tension, and a spa-like experience.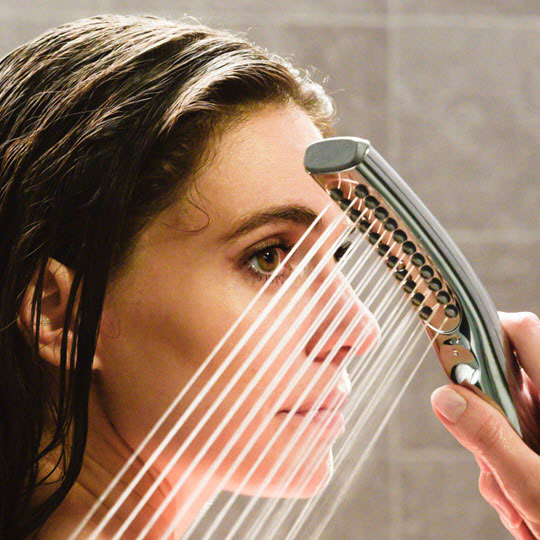 A Luxurious Way to Nurture Hair and Body
A shower wand is a great way to nurture both the hair and body, while also offering the convenience of hand held shower head.
More Than Just a Shower
All of our Shower Wand Spa Systems include a separate fixed shower head with PowerPulse shower massage.
Delivering up to 2X the massage force of other retail shower heads, its therapeutic massage gives you all of the health and wellness benefits clinical testing has shown it provides, including relief from muscle tension, joint discomfort, stress, and more.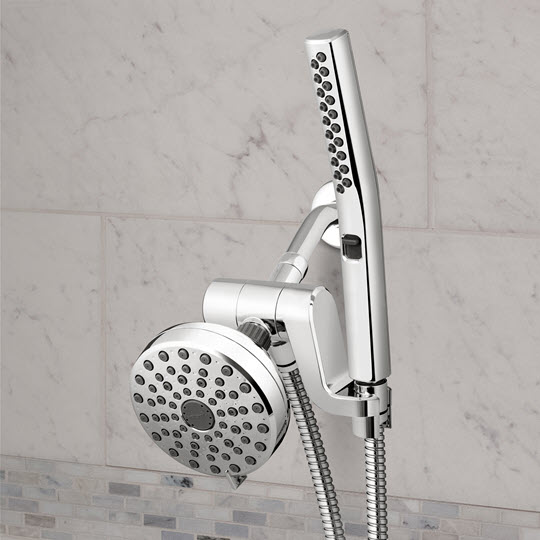 Important Features of a Shower Wand
Power Comb Spray
Powerful concentrated rows of spray nozzles are ideal for scalp massage, thorough hair rinsing, and therapeutic muscle tension relief.
Water combing spray penetrates to hair roots for fast, effective rinsing and less tangles without damaging hair.
Contoured shape adds coverage.
Spa System Combinations
Shower wand spa systems offer a shower wand and separate shower head in one unit.
A shower wand spa system usually includes a fixed rain shower head in addition to the shower wand.
In addition to rain shower spray settings, the shower head may include massage sprays, such as PowerPulse therapeutic strength massage.
Spray settings are controlled on the shower wand and the shower head individually. They can offer different types and numbers of spray settings.
Diverter Valve
Shower wand spa systems include a diverter valve to control water flow.
There are two main types of diverter valves:
Two-way diverter valves switch between the shower head and shower wand.
Three-way diverter valves let you choose between the shower head, shower wand, or both at the same time.
Best Shower Wands
Waterpik® shower wand spa systems are affordable and attractive.
They offer a wide range of innovative functions, styles, and finishes, including:
Multiple spray settings, from relaxing natural rainfall on the rain shower head to the Power Comb wand spray for thoroughly rinsing hair
Easy-to-clean anti-clog nozzles
A variety of finish options
Quick installation - no plumber needed!
Lifetime limited warranty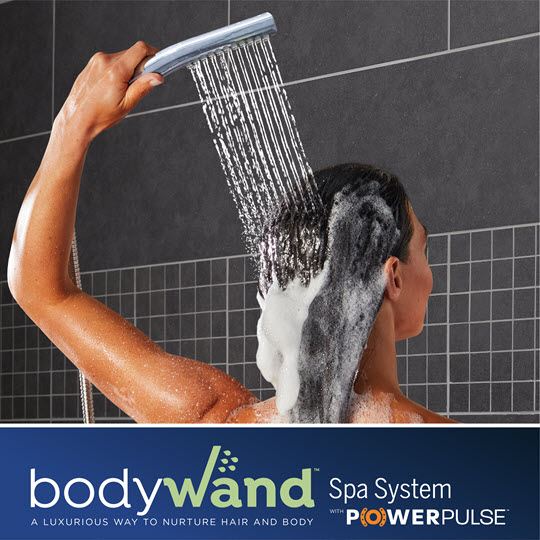 Explore Shower Head Types
Explore Wellness Benefits