Adjustable Shower Heads
Adjustable height shower heads make it easy to position the shower spray where you want it, allowing you to change the shower height in seconds and target specific muscles.
Best Shower Head For:

Accommodating tall and short people; adjusting for low or high shower arms or pipes.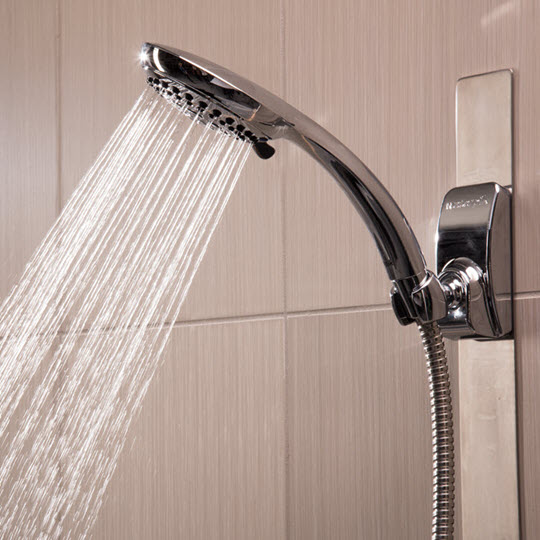 Shower Pressure and Spray Settings
Using innovative Waterpik® technology our adjustable shower heads provide the high pressure and power you want in a shower.
Adjustable shower heads feature a range of spray settings, including PowerPulse therapeutic shower massage, the powerful and invigorating PowerSpray+, shower mist, and the full body spray.
More Than Just a Shower
Experience the versatility of a shower head with an easy height adjustment. You can accomodate multiple family member heights, adjust for low or high shower pipes, and locate the shower head spray to target a specific area.
If your shower head has PowerPulse with its therapeutic strength massage, you can receive all of the health and wellness benefits clinical testing has shown it delivers, including relief from muscle tension, joint discomfort, stress, and more.
If your shower head features PowerSpray+, you will enjoy a powerful and invigorating shower experience every time you shower, regardless of the flow rate (GPM).
Types of Adjustable Shower Heads
Magnetic Slide Strip
Watch our installation video on how to easily set up your Waterpik® Magnetic Slide Strip shower head.
A sliding magnetic shower bracket easily moves up and down a stainless-steel strip to quickly customize your shower height.
The strip installs with adhesive tape that lasts for years.
View Magnetic Slide Strip Shower Head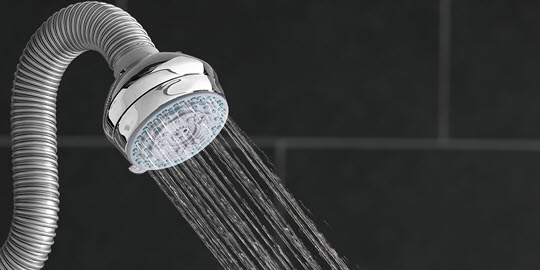 Flexible
A flexible neck flexible shower head incorporates a shower arm that is so moveable, you can adjust it to almost any position.
Move the shower head up to add height; move it down for shorter people or children and adjust the angle.
Patented Waterpik® FlexNeck technology lets you adjust the shower head and it stays put.
Browse FlexNeck Shower Heads
Best Adjustable Shower Heads
Waterpik® adjustable shower heads are affordable and attractive. They offer a wide range of innovative functions, styles, and finishes.
Easily position the shower spray where you want it
Variety of spray settings
Easy-to-clean anti-clog nozzles
Chrome, white, or brushed nickel finish options
Quick installation - no plumber needed!
Lifetime limited warranty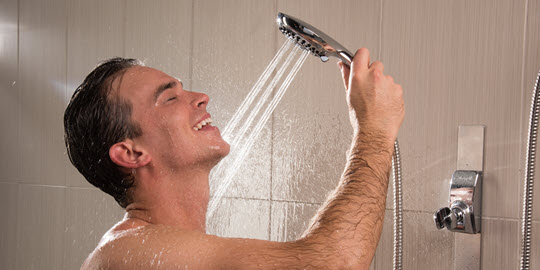 Find Your Adjustable Shower Head
Waterpik® adjustable shower heads are available in chrome, white, and brushed nickel finishes as well as water-saving low flow options.
Because they are so easy to install, Waterpik® shower heads let you upgrade your bathroom in minutes.
Explore Shower Head Types
Explore Wellness Benefits